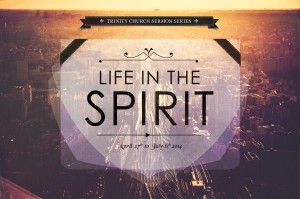 Next Sunday at Trinity:
We are continuing our series today called "Life in the Spirit" and we are going to look at the subject of spiritual gifts. What gifts has the Holy Spirit given to his body, who has received these gifts these gifts and what is their purpose? These are questions that the Scripture answers clearly.  We will see that the Bible teaches that EVERY believer in Jesus has been gifted by the Holy Spirit to serve the church and the world.  No one is left out and no one can say that they are not needed or not important in Christ's body.
We want to look at two passages in the New Testament where there is teaching on spiritual gifts.  These passages look at some of the different spiritual gifts but their main importance is to teach us why God's spirit gives gifts to us and what is our attitude supposed to be when we have been gifted by God.
Let's look at what these spiritual gifts are and how we can use them to serve one another in love.
Dimanche prochain à Trinity:
Nous continuons notre série « la vie dans l'Esprit » et nous allons étudier les dons de l'Esprit. Quels dons l'Esprit Saint a t-il donné à Son corps, qui a reçu ces dons et dans quel but ? Les Écritures répondent parfaitement à ces questions. Nous verrons que la Bible nous enseigne que CHAQUE Chrétien a reçu des dons de l'Esprit Saint afin de servir l'église et le monde. Personne n'est délaissé, indésirable ou non-important dans le corps du Christ.
Nous voulons étudier deux passages du Nouveau Testament contenant des enseignements à propos des dons de l'Esprit. Ces passages montrent quelques dons différents mais leur principal intérêt et de nous enseigner pourquoi l'Esprit de Dieu nous offre ces dons et comment nous devons réagir lorsque nous les recevons.
Regardons ce que sont ces dons de l'Esprit et comment nous pouvons les utiliser pour servir notre prochain dans l'amour.