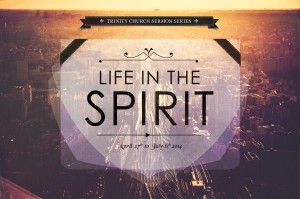 Next Sunday at Trinity:
The Holy Spirit: Trust also in Me. John 14: 1-14
Far too often we trust in ourselves, our plans and systems and programs to accomplish the work of being and making disciples and building the Kingdom, rather than relying on and following the Holy Spirit Jesus left to lead us.
It is hard to follow someone we don't know, however. If we look at Jesus and what He did while he was on earth, we will have a better idea of who the Spirit is as He lives and acts in and through us.
We will look at the Spirit through the lens of Jesus and consider how we make space in our lives to know and rely on the Holy Spirit?
Dimanche prochain à Trinity:
L'Esprit Saint: Croyez aussi en moi. Jean 14: 1-14
Nous croyons trop souvent en nous même, nos plans, nos systèmes, nos programmes pour le travail à accomplir pour être et faire des disciples et pour construire le royaume, plutôt que de nous reposer sur l'Esprit Saint que Jésus a laissé pour nous guider et de le suivre.
Toutefois il est difficile de suivre quelqu'un que nous ne connaissons pas. Si nous regardons Jésus et ce qu'il a fait lorsqu'il était sur Terre, nous aurons une meilleure idée de qui est l'Esprit alors qu'il vit parmi nous et agit par nous.
Nous étudierons l'Esprit à travers Jésus et verrons comment nous pouvons faire de la place dans nos vies pour mieux connaître l'Esprit Saint et se reposer sur lui.