One day early in his ministry, Jesus is gathering a large crowd of Jewish listeners. He drew a crowd who came to listen to his teaching and to receive healing from his touch.  But that evening he says to his disciples, "Let's go over to the other side."  (Mark 4:35) "The other side" was something of a technical term, for Jesus is not just talking about geography. The other side of the lake was the region of Decapolis.  This was largely Gentile territory, often considered as the enemies of Israel. What was he doing?  Didn't he know that the kingdom was for "our side?" It's almost as if he didn't know that this is "the other side."  It's almost as if he thought it was his side. 
   If Jesus loves "the other side" as much as "our side" then the story we look at the coming Sunday might confuse us.  The woman in this story is called "a Canaanite woman" who comes from the other side. At first it seems that Jesus is reluctant to help her?  We wonder why? What does Jesus really think about her and what does he want to teach us?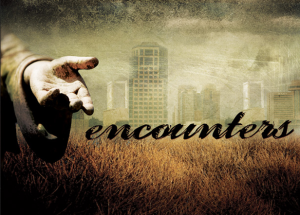 Vers le commencement de son ministère, Jésus rassemble une grande foule de Juifs. Ceux-ci étaient venue écouter son enseignement et recevoir sa guérison.  Mais le soir même il dit à  ses disciples, "Allons sur l'autre rive."  (Mark 4:35)  "L'autre rive" était un terme technique, pour Jésus il ne s'agissait pas simplement de géographie. De l'autre côté du lac se trouvait la région de Decapolis.  Il s'agissait d'un territoire de Gentils, souvent considérés comme des ennemis d'Israël. Que fait-il ? Ne savait-il pas que le Royaume était pour "notre côté" ?  C'est presque comme s'il ignorait qu'ici était "l'autre rive".  Presque comme s'il pensait qu'il s'agissait de son côté. 
   Si Jésus aime "l'autre rive" autant que la nôtre, alors l'histoire que nous lirons ce Dimanche pourrait nous confondre. La femme de cette histoire est appelée "la femme cananéenne" venue depuis l'autre rive. De prime abord Jésus semble is réticent à  l'aider.  Pourquoi cela ? Que pense réellement Jésus à  son sujet et qu'essai t-il de nous enseigner ?