Many people think that the whole goal of Christianity is to get as many people as possible to receive Jesus in this life so they can go to heaven and live with him there after death.  But that's not a big enough vision of what it means to be a Christ follower.  Christ came to earth not just to save us from this wicked world and take us to heaven but to renew the entire world and to bring all things healed and reconciled into a new heaven and a new earth.
Yes, those who belong to Jesus in this life go to be with Him once they die – that's a promise made in various places in the NT. But that's only the start.  In the end- after most of us have had a time of rest and refreshment in the presence of Jesus himself, God has promised to give the entire world, the whole created order, a complete makeover. We will be given new bodies in which to live with delight and power in God's new world.  But that means that the renewing power of the Holy Spirit through the resurrection of Christ is already at work in our world.  What does that really mean for us today?  Let's see.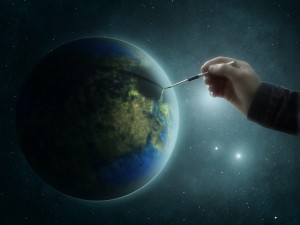 Beaucoup pensent que le but du Christianisme est que le maximum de gens puissent recevoir Jésus dans leur vies afin qu'ils puissent aller au paradis et vivre avec lui après la mort.  Mais cette vision n'est pas assez grande pour représenter ce que c'est d'être un disciple de Christ.  Christ est venu sur la Terre pas seulement pour nous sauver de ce monde et nous emmener aux cieux mais pour renouveler ce monde et apporter toutes ces choses guéries et réconciliées dans de nouveaux cieux et une nouvelle Terre.
Oui, ceux qui appartiennent à  Jésus dans cette vie seront avec lui après leur mort – c'est une promesse souvent répétée dans le Nouveau Testament. Mais ça n'est que le commencement.  Dans l'au-delà , la plupart d'entre nous auront un temps de rafraîchissement dans la présence de Jésus lui-même, Dieu a promis de donner au monde, à  toute la création, un renouveau total. Nous aurons de nouveaux corps dans lesquels nous vivrons avec délectation et puissance dans le nouveau monde de Dieu.  Mais cela signifie que la puissance de renouveau de l'Esprit Saint via la résurrection de Christ est déjà  active dans ce monde.  Qu'est-ce que cela signifie pour nous aujourd'hui ?  Voyons cela ensemble.