We are continuing in our sermon series about Jesus' encounters with people. We come to a story that seems to be repeated dozens of times over in the gospels and it can confuse us sometimes.   A religious person and an irreligious person meet Jesus and in every occasion the irreligious person comes off as the hero?  For you who are serious and faithful in coming to church, does that biblical theme confuse you?  Why is the irreligious person always the one who seems to be commended by Jesus? 
   Simon is an important and respected religious leader of the day who invites Jesus to his home. We often think of the Pharisees as the enemies of faith and religion but we need to realize that rather the Pharisees were those who took God's law seriously and were committed to their faith and God.  This Pharisee invites Jesus to dinner and while the dinner is going on something rather scandalous happens. A sinful woman comes into the courtyard and begins to weep and kiss the feet of Jesus while anointing them with oil.  What are we supposed to learn from this outrageous story?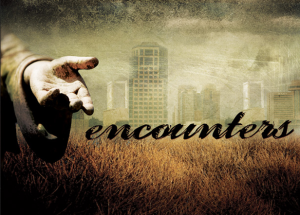 Nous poursuivons notre série de messages à  propos de ceux que Jésus a rencontré. Nous arrivons à  une histoire qui semble être répétée des dizaines de fois dans les Évangiles et cela peut devenir confus. Une personne religieuse et une autre qui ne l'est pas rencontrent Jésus et à  chaque occasion celui qui n'est pas religieux en ressortirait comme le héros ?  Pour ceux d'entre vous qui sont sérieux et fidèles lorsqu'il s'agit de venir à  l'église, ce thème biblique vous perturbe t-il ?  Pourquoi la personne non-religieuse est-elle toujours celle qui semble être félicitée par Jésus ?
   Simon est un dirigeant religieux important respecté de cette époque et il invite Jésus chez lui. Nous considérons souvent les Pharisiens comme les ennemis de la foi et de la religion mais nous devons comprendre que les Pharisiens étaient ceux qui prenaient la loi de Dieu très au sérieux et étaient dévoués à  leur foi et à  Dieu.  Ce Pharisien invite Jésus pour dîner et, alors que le repas se déroule, quelque chose de plutôt scandaleux arrive. Une femme pécheresse entre dans la cour intérieure et commence à  essuyer et embrasser les pieds de Jésus et oignant d'huile.  Que sommes-nous supposé apprendre de cette histoire ?