As we begin a new year we want to take some time to look at those who met Jesus and how their lives were transformed. 
   During Advent we saw that Jesus claimed to be the light that came into the world of darkness. And this same Jesus said, "Whoever comes to me, I will never cast away."  What an amazing thought, that the Creator of the Universe came to earth as a human being so that we could know Him and have a relationship with Him.
   We want to begin a series of messages where we peruse the gospels and see how Jesus interacted with those who came to Him for help.  We want to see how Jesus dealt with each person as an individual and was ready to touch them at their point of need.  We too need to come to Him and so let's see how we can come, just as we are, full of fears, doubts, worries and hurts, yet He is ready to receive us. 
   This Sunday we want to begin by looking at the one who came first; John the Baptist.  John was known as the forerunner of the Messiah, the one who would come in the spirit of Elijah to prepare His coming. What can we learn from John?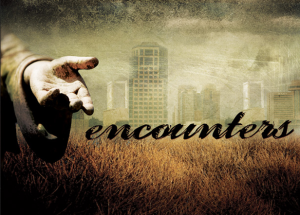 Alors que nous commencerons une nouvelle année, nous voudrions prendre du temps pour contempler ceux qui ont rencontrer Jésus et voir comment leurs vies ont été transformées.
   Durant la saison de l'Avent, nous avons vu que Jésus prétendait être la lumière venue dans ce monde de ténèbres. Et ce même Jésus a dit: "Celui qui vient à  moi, je ne le rejetterai pas."  Quelle pensée incroyable, le créateur de l'univers vint sur Terre sous la forme d'un être humain afin que nous puissions le connaître et avoir une relation avec Lui. 
   Nous voulons débuter cette série de messages en lisant attentivement des différents récits de l'Évangile pour voir comment Jésus a interagit avec ceux qui sont venus chercher de l'aide auprès de Lui.  Nous voulons voir comment Jésus a prit soin de chacun en tant qu'individu et comme il était prêt à  les toucher là  où ils en avaient besoin.  Nous devons nous aussi venir à  Lui alors voyons comment faire, comme nous sommes, plein de larmes, de doutes, d'inquiétude et de blessures, et pourtant il est prêt à  nous recevoir. 
   Ce Dimanche, nous commencerons avec celui qui est venu le premier, Jean le Baptiste.  Jean était connu comme celui qui précédait le Messie, celui qui viendrait dans l'esprit d'Élie pour préparer Sa venue. Que pouvons-nous apprendre de Jean ?