This spring we have been looking at those who encountered Jesus.  I think we could go on and on and we could include people throughout history up to the present time because as we have mentioned, Jesus is alive and He still encounters people today. But we want to close this series with one last message of the man who came out of the tomb. 
   Many of us tend to look back on our lives and wish that things had gone differently for us.  In the story we want to look at next Sunday we see the futility of "if only" living.   Mary and Martha has a brother who was sick. They sent a message to Jesus, "the one that you love is ill."  Jesus waited too long before coming to see them and Lazarus died.  Both Mary and Martha said to Jesus, "If only you had been here our brother wouldn't have died." 
   What are the "if onlys" in your life?  Jesus encouraged the sisters to let go of their "if only" wishful thinking and to look at him as the great "I am" of the present tense and the present time. This story too touches Easter for Jesus declares that He is the "resurrection and the life."  Do you believe?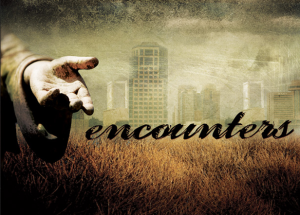 Durant cette saison de Printemps, nous étudions l'histoire de ceux qui ont rencontré Jésus.  Il me semble que nous pourrions continuer ainsi en incluant des gens jusqu'à  notre époque car comme nous l'avons mentionné, Jésus est vivant et il continue à  rencontrer les gens de nos jours. Mais nous voulons clore cette série avec celui qui est revenu d'entre les morts.
   La plupart d'entre nous a tendance à  regarder en arrière souhaitant que les choses se soient passées différemment.  Dans l'histoire de Dimanche prochain nous voyons la futilité des "si seulement".   Marie et Marthe avaient un frère malade. Elles envoyèrent un message à  Jésus, "celui que tu aimes est soufrant."  Jésus a mis trop de temps a venir le visiter et Lazare était mort.  Marie et Marthe dirent à  Jésus, "Si seulement tu étais venu à  temps, notre frère serait toujours vivant." 
   Quels sont les "si seulement" de nos vies ?  Jésus encouragea les sÅ"urs à  abandonner ce type de pensées et de le voir comme le grand "Je suis" au présent. Cette histoire touche aussi à  Pâques car Jésus déclare qu'il est "la résurrection et la vie."  Le croyez-vous ?