[archiveorg Rev12LastWordsOnTheChurchRev19 width=640 height=30 frameborder=0 webkitallowfullscreen=true mozallowfullscreen=true]
       We have been studying together the book of Revelation and some of you may have wondered whether we would have an Easter message or not.  But we come to a passage in the book of Revelation that highlights the Easter gospel.  So, I want us to look together at the Easter message in a different way this coming Sunday, by studying the passage in Revelation 19 that shows us the full implication of Easter morning.
       Heaven is standing open and there is a great white horse whose rider is called Faithful and True.  On Palm Sunday, Jesus rode into Jerusalem on a donkey.  In the first century, when a king rode a donkey he was riding to peace, but when he rode a warhorse he was riding to battle.  Jesus rode into Jerusalem once on a donkey, coming to announce peace and forgiveness. The Jewish leaders arrested him and the Roman authorities put him on a cross. But death could not hold him.  On Easter morning, the grave was split apart and he rose from the dead.
       Now we see heaven open with Jesus riding a white horse, for he is riding to battle. The risen Christ is returning to reign over the world that He won and to put an end to evil, injustice, death and sorrow.  Easter teaches us that the battle has already been won and the risen Christ is riding victorious to claim his bride.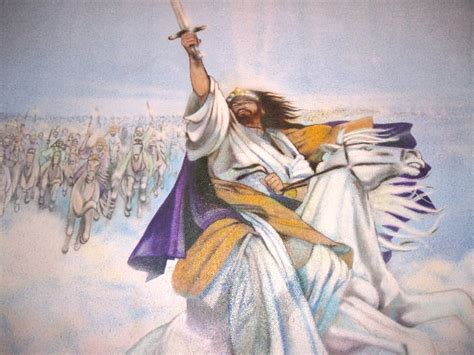 Alors que nous étudions le livre de l'Apocalypse certains se demandent certainement si nous aurons un message de Pâques cette année. Nous arrivons à  un passage du livre de l'Apocalypse qui met en lumière la Bonne Nouvelle de Pâques.  Voyons ensemble le message de Pâques d'une manière différente ce Dimanche, en étudiant un passage de Apocalypse 19 qui nous montre l'entière implication du matin de Pâques.
       Les cieux sont ouverts alors qu'apparait un grand cheval blanc dont le cavalier est appelé Fidèle et Véritable. Le Dimanche des rameaux, Jésus entra en Jerusalem sur le dos d'un âne. Au premier siècle, lorsqu'un roi chevauchait un âne, il arrivait en paix, mais si sa monture était un cheval de guerre, il venait pour se battre.  Jésus est entré en Jérusalem à  dos d'âne pour annoncer la paix et le pardon. Les autorités Juives l'ont fait arrêté et les Romains l'ont crucifié. Mais la mort ne pouvait le retenir.  Le matin de Pâques, la tombe était ouverte et il fut ressuscité.
       À présent nous voyons les cieux ouverts et Jésus chevauchant un cheval blanc, car il vient livrer bataille. Le Christ ressuscité revient pour régner sur le monde qu'il a conquis et mettre un terme au mal, à  l'injustice, à  la mort et au chagrin.  Pâques nous enseigne que la bataille a déjà  été gagnée et que le Christ ressuscité arrive victorieux pour sa fiancée.