We are looking together at people who encountered Jesus and how their lives were transformed by Him.  There's no shortage of stories in the Bible of people meeting Jesus and having their lives radically changed as a result of it. But what does this mean for modern-day believers who want to have an encounter with Him?
   The book of Acts tells the story of the church coming alive with one man in particular, Paul, having a life-altering experience on the road to Damascus. Paul's subsequent teachings through his epistles have become a cornerstone for church instruction and his God-given mission, empowered by the Holy Spirit, radically altered the church forever. 
   In a world saturated with information and distraction, it is time for the church to follow the Holy Spirit's leading and be the Christ-centered, Acts 1:8 family we are called to be. Paul's unwavering mission and incomparable suffering for Christ are a wake-up call to the comfort and complacency of the global modern church.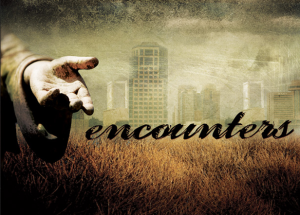 Nous étudions ensemble l'histoire de ceux qui ont rencontré Jésus et comment leurs vies ont été changées.  La Bible ne manque pas d'histoire de ce genre de récits. Mais qu'est-ce que cela signifie pour un croyant moderne qui désirerait une rencontre avec Lui ?
   Le livre des Actes nous raconte l'histoire de l'église qui prend vie grâce à  un homme en particulier, Paul, ayant vécu une expérience qui changea sa vie sur la route de Damas. Les enseignements de Paul, à  travers ses épîtres, sont devenus la pierre angulaire pour l'instruction de l'église et sa mission divine, guidée par l'Esprit Saint, qui ont radicalement changé l'église à  jamais. 
   Dans un monde saturé d'informations et de distractions, il est temps pour l'église de suivre la direction de l'Esprit Saint et d'être centrés sur Christ, une famille telle que nous sommes appelés à  être selon Acts 1:8 . La mission inébranlable et incomparable de Paul ainsi que sa souffrance pour Christ sont un signal de réveil dans le confort et la complaisance de l'église moderne.