We are looking together at a very important verse in the gospel of John during this advent season. When John starts his gospel he doesn't start with the birth narratives like Matthew and Luke but he does begin with the incarnation, with the word becoming flesh and dwelling among us. And John tells us that Jesus coming into the world brought life and light into the darkness of our world.
   There is one verse in this narrative that we are meditating on during this entire time of advent.  John 1:5 says, "The light shines in the darkness and the darkness has not overcome it."  But Jesus also says something amazing to his followers. He tells them, "You are the light of the world." At Christmas time it is not enough just to enjoy all the beautiful Christmas lights but I want to challenge each of us with this truth that those who follow Jesus are lights in this world not just during advent but all year longs.
   Let's think about what it means for us to be light in this world where we live.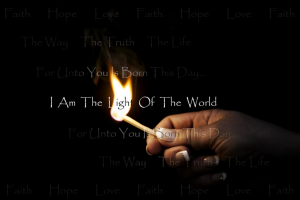 Nous lisons ensemble un verset très important de l'Évangile de Jean durant cette saison de l'Avent. Lorsque Jean commence son Évangile, il ne le fait pas avec le récit de la nativité comme  Matthieu et Luc mais avec l'incarnation, qui est la Parole faite chair et qui a habité parmi nous. Et  Jean nous dit que la venue de Jésus dans le monde a apporté la vie et la lumière dans les ténèbres de celui-ci.
   Il y a un verset de ce passage sur lequel nous méditerons durant cette saison de l'Avent.  Jean 1:5 dit, "La lumière a brillé dans les ténèbres, et les ténèbres ne l'ont pas vaincue."  Mais Jésus dit aussi une chose incroyable à  ses disciples. Il leur dit: "Vous êtes la lumière du monde." La période de Noël n'est pas simplement d'apprécier les décorations lumineuses mais je voudrais vous défier par cette vérité que chaque disciples de Jésus est une lumière dans ce monde, et pas seulement durant l'Avent mais toute l'année. 
   Réfléchissons à  ce que cela signifie pour nous d'être des lumières dans ce monde.