[archiveorg Rev2LastWordsOnJesusJan72018 width=640 height=30 frameborder=0 webkitallowfullscreen=true mozallowfullscreen=true]
   In the world we live in, it is a challenge to center our lives on Christ. So many other things seem to want to crowd into the center.  As we begin a new year it is important to re-focus on our priorities.
     Perhaps John had a similar challenge in the first century.  He was sent into exile on the prison island of Patmos and it looked to him like Rome was winning and the church was being defeated.  But John has a vision that helped him to re-focus. The Revelation gives us the last word on Christ and that word is that Jesus is central and he has ascended into heaven and is now reigning as King as the right hand of the Father.
     Jesus is at the center of the meaning of human history. Yet, I confess to you that as we start 2018 it doesn't always look like Jesus is king or is at the center of our world.
     The task of keeping Christ central was not just difficult for the 1st century persecuted church, it is extremely difficult in our western individualized success-oriented culture.  Other things elbow their way to the front.  Let's look at what John saw that helped him to re-focus on what was most important, maybe we can too in this coming year.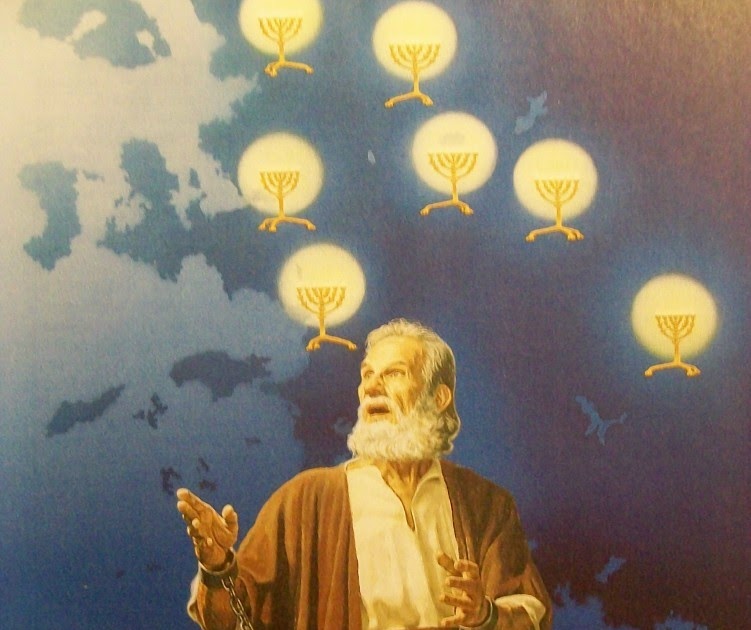 Dans ce monde, c'est un vrai défi de centrer nos vies sur Christ. Il y a a tellement d'autres choses qui désirent prendre la place centrale.  Alors que nous débutons une nouvelle année, il est important de revoir nos priorités.
     Jean a sûrement vécu un défi similaire durant le premier siècle.  Il fut envoyé en exil sur l'île de Patmos et il lui semblait bien que Rome était victorieuse alors que l'église semblait vaincue.  Mais Jean eut une vision qui l'a aidé à  se recentrer. L'apocalypse nous apporte les derniers mots de Christ, qui sont que Jésus est central et qu'il est monté aux cieux pour reigner en roi à  la droite du Père.
     Jésus est toujours au centre de l'Histoire humaine. Et oui, je vous confesse qu'alors que nous entrons dans l'année 2018, il ne semble pas toujours évident que Jésus est roi ou qu'il est le centre du monde.
     Garder Christ au centre n'était pas une tache difficile seulement pour l'église persécutée du premier siècle, c'est aussi extrêmement difficile dans nos cultures occidentales modernes,  guidées par l'individualismes et orientées vers le succès. D'autres choses entrent en jeu.  Regardons ensemble ce que Jean a vu et qui l'a aidé à  se recentrer sur ce qui est la plus important, et peut-être pouvons-nous en faire autant en cette nouvelle année.