Episode 3 of a series of 7 messages on the story of Joseph. After Joseph, the spoiled child and Joseph the slave. This Sunday is one of the most famous episodes of Joseph's live.  Joseph facing a sexual temptation in Egypt as a slave in Potiphar's household. 
     Everyone probably knows this story: Joseph has risen to authority in the home of Potiphar because of his faithfulness.  But at this point, the master's wife begins to notice Joseph and to be attracted to him.  She invites him to have an affair with her but he resists the insistent invitation of his master's wife. This is an unusual story: in most cases, women are victims of sexual harassment because most men have a problem controlling their sexual desires. Here we have the opposite. 
     Through examining Joseph' s reaction and the wife's behavior, we will look at the question of temptation that we face in our daily life.  How does temptation work? Why do we keep doing wrong?  How can we learn to resist temptation like Joseph?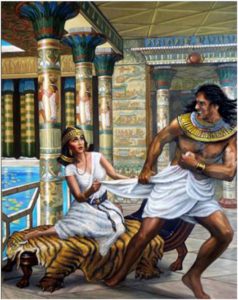 Episode 3 d'une série de 7 messages à  propos de Joseph. Après Joseph, l'enfant gâté et Joseph l'esclave. Ce Dimanche nous verrons un célèbre épisodes de la vie de Joseph.  Joseph affrontant la tentation sexuelle en Egypte lorsqu'il fut esclave dans la maison de Potiphar.  
     Tous connaissent probablement déjà  cette histoire: Joseph a gagné en autorité chez Potiphar grace à  sa fidélité.  Mais à  ce point, l'épouse du maître commence à  remarquer Joseph et à  être attirée par lui.  Elle l'invite à  coucher avec elle mais il résiste à  ses invitations. Il s'agit d'une histoire peu commune: dans la plupart des cas, les femmes sont victimes d'harcèlement sexuel car les hommes ont généralement du mal à  contrôler leurs désirs sexuels. Mais ici c'est le contraire qui arrive. 
     En examinant la réaction de Joseph et le comportement de la femme, nous étudierons la  question de la tentation que nous affrontons quotidiennement.  Comment fonctionne t'elle? Pourquoi échouons-nous?  Comment apprendre à  résister à  la tentation comme  Joseph?