We have come to the conclusion of our messages where we have been dealing with the most difficult subjects that Christians face or the objections that many people have to biblical Christianity in our day and age. 
   We are now in Advent Season. Advent is that time in the Christian calendar when we begin to think about the birth of Jesus.  Advent is a season of waiting, expecting, and hoping. Beginning four Sundays prior to Christmas and ending on Christmas Eve, Advent helps us prepare for the coming, or "advent" of the Christ child at Christmas. 
   The message this Sunday is a transition message from our fall series to the time of Advent.  We want to close the series of messages this afternoon with what is in fact the most difficult element of Advent for people to understand by dealing with the question, "How can Jesus be both God and Man at the same time?" In theological terms this is about a word, the word is "incarnation." The incarnation means that God became a man.  We sing about it at Christmas. "Veiled in flesh the godhead see, hail the incarnate deity…" What does this mean?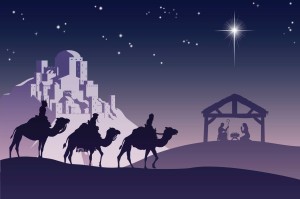 Nous poursuivons notre série de messages à propos des sujets les plus difficiles auxquels les Chrétiens sont confrontés ou les objections que beaucoup de gens ont envers le Christianisme à notre époque.
   Nous sommes arrivé à  la saison de l'Avent. L'Avent est une période du calendrier Chrétien pendant laquelle nous commençons à  méditer sur la naissance de Jésus.  C'est une saison d'attente et d'espoir. Débutant quatre Dimanche avant Noël et s'achevant à  la veillée de Noël, l'Avent nous aide à  nous préparer pour la venue ou l'avènement de l'enfant Christ à  Noël. 
   Le message ce Dimanche est une transition de la série de cet automne vers ce temps de l'Avent.  Nous voulons terminer cette série de messages avec l'un des éléments les plus compliqués à  comprendre de l'Avent avec cette question: "Comment Jésus peut-il être à  la fois Dieu et homme ?" En jargon théologique, on parle d'incarnation. L'incarnation signifie que Dieu est devenu un homme.  Nous chantons à  propos de cela à  Noël. "Voilée de chair, la divinité voit, gloire à  la divinité incarnée…" Qu'est-ce que cela signifie ?