We were created to live under God's Sovereign Authority with everything we needed but with just one command. Do not eat from the tree of good and evil; that was all! God created us to have a loving relationship with Him.
It says that God walked in the garden with Adam and Eve in the cool of the evening and called to Adam. In our passage from John, he says "We testify that the word of life appeared and we saw him and touched him." God has always been involved with His creation and with us, because he made us in His image for relationship with Him. Sadly, it wasn't long before both Adam and Eve were tempted to disobey God's one and only command not to eat from the forbidden tree. We were to be God's friends and enjoy a personal relationship with Him but sadly Eve was tempted by Satan's mouthpiece, the serpent, by believing his lies. Adam followed, and the consequences were cataclysmic! In effect, they rebelled against God's authority. What is the result and what can we do in order to restore a relationship with God?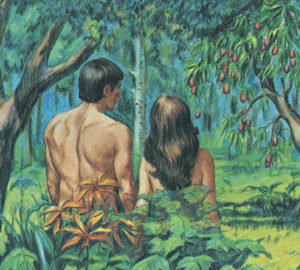 Nous avons été créés pour vivre sous l'autorité souveraine de Dieu, avec tout ce dont nous avons besoin et un seul commandement. Ne mangez pas du fruit de l'arbre de la connaissance du bien et du mal; c'est tout! Dieu nous a créés pour vivre une relation d'amour avec Lui.
On dit que marchait dans le jardin avec Adam et Eve dans la fraîcheur du soir et qu'il appela Adam. Dans notre passage, dans Jean, il dit "ce que nous avons vu de nos yeux, ce que nous avons contemplé et que nos mains ont touché concernant la parole de la vie, nous vous l'annonçons." Dieu a toujours été impliqué avec Sa création et avec nous, parce qu'Il nous a fait à  Son image pour une relation avec Lui. Tristement, il n'a pas fallu beaucoup de temps à  Adam et Eve pour être tentés de désobéir le commandement unique de Dieu et de manger de l'arbre interdit. Nous devions être les amis de Dieu et apprécier une relation personnelle avec Lui mais Eve fut tentée par la bouche de Satan, le serpent, et a cru ses mensonges. Adam a suivi, et les conséquences furent catastrophiques! En effet, ils se sont rebellés contre l'autorité de Dieu. Quel est le résultat et comment pouvons-nous restaurer notre relation avec Dieu ?