We are continuing today a new series of messages entitled  "Answering Objections to the Christian Faith."  We are trying to deal with the most difficult questions that we as Christians have to face in a pluralistic society; the objections that others have to our faith.
   This week we look at one of the most prevalent objections in our modern world.  It goes like this – Christians believe they have absolute truth, they have things they think that everyone should believe, but people who claim to have absolute truth undermine freedom.  They oppress people who are different than they are and they impose their views on others.  They themselves are not free because they live under the burden of divine commandments and so Christians are the least free of all people.
As the argument goes, "that is one of the biggest reasons," they say, "why I would never want to be a Christian because you Christians are tied to divine commands and everyone should be free to determine for themselves what is true.  Only that freedom brings happiness. So absolute truth is the enemy of freedom."   Is this correct?  How do Christians respond?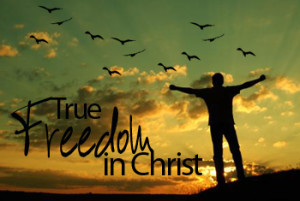 Nous poursuivons cette nouvelle série de messages intitulée:  "Répondre aux Objections faites à l'encontre de la Foi Chrétienne."  Nous tentons de répondre aux questions les plus difficiles auxquelles les Chrétiens doivent faire face au sein d'une société pluraliste; les objections que d'autres ont à propos de notre foi.
   Cette semaine nous aborderons l'une des objections les plus présentes dans notre monde moderne.  Elle va comme suit: Les Chrétiens croient qu'ils possèdent la vérité absolue, ils pensent que tout le monde devrait croire aux même choses qu'eux, mais quiconque prétend détenir la vérité absolue amoindrit la liberté.  Ils oppressent ceux qui pensent différemment et imposent leurs opinions aux autres.  Eux-même ne sont pas libre car ils vivent sous le fardeau de commandements divins et c'est pourquoi les Chrétiens sont le peuple le moins libre de tous.
Voici ce qui est dit: "Ceci est l'une des raisons les plus importantes", ils disent: "Pourquoi voudrai-je devenir un Chrétien ? Vous êtes soumis à  une série de commandements divins alors que chacun devrait être libre de déterminer ce qui est vrai pour soi-même.  Cette liberté seule apporte le bonheur. La vérité absolue est donc l'ennemie de la liberté."  Est-ce correct ?  Comment les Chrétiens répondent-ils à  cela ?