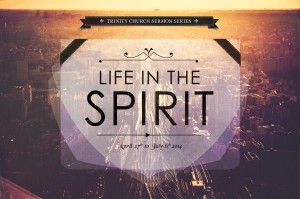 Next Sunday at Trinity:
We are continuing our series today called "Life in the Spirit" and we are going to look at the subject of how we can offend or hurt the Holy Spirit and abuse the gifts that He gives to us.
The Holy Spirit is a person, God himself, the spirit sent from Christ into our hearts when we surrender our lives to Christ.  And because He is personal, it is possible to hurt and offend him in certain ways.
The author to the Hebrews was writing to Christians who were going through hard times and desert places in their lives.  He reminds them that sometimes all of us go through desert places where we don't see the miracles that we want to see, but that is when we must grow and develop perseverance.  He reminds them that if you hear the voice of God's Spirit don't harden your hearts, but encourage one another so that none of you will be hardened by sins' deceitfulness.
Let us hold fast to the confidence we had at first and not grieve the Holy Spirit of God.
Dimanche prochain à Trinity:
Nous continuons notre série appelée « La vie dans l'Esprit » et nous allons nous pencher sur comment nous pouvons offenser ou blesser l'Esprit Saint et abuser des dons qu'il nous a offerts.
L'Esprit Saint est une personne, Dieu Lui-même, l'esprit envoyé depuis Christ jusque nos coeurs lorsque nous lui soumettons nos vies. Et parce qu'il est une personne, il est possible de le blesser ou de l'offenser de certains façons.
L'auteur de l'épitre aux Hébreux écrit aux Chrétiens traversant des temps difficiles et de déserts dans leurs vies. Ils leur rappelle qu'il nous arrive à tous de traverser des déserts où nous ne voyons pas les miracles que nous attendons, mais c'est là que nous avons besoin de grandir et de développer notre persévérance. Ils leur rappelle de ne pas durcir leurs coeur lorsqu'ils entendent la voix de l'Esprit de Dieu, mais de s'encourager les uns les autres afin que nul ne soit séduit par le péché.
Tenons fermement cette confiance que mois avions au départ et n'attristons pas l'Esprit Saint de Dieu.