We are in a short series of messages where we are talking about what God is calling us to do and be here at Trinity International Church. We come to our last C word today, caring influence. 
Trinity is called to serve the needs of this city and the people around us in love.  What does it mean to be so transformed by the message of the good news that we begin to look at those around us very differently?  The gospel gets into your life when you come to Jesus alone for your salvation, but when the gospel gets into your life it brings radical changes in the way you see other people.
The gospel of grace will cause you to care about people who are very different from you and who otherwise you have nothing in common with.    As long as you think you are trying to merit your relationship with God you will have to feel superior to others who don't do things the way you do or see things the way you see them.  But when you see Christ coming to earth and dying for you before you did anything to deserve it, when you read that while you were still in your sins Christ died for you, it changes you and it transforms the way you treat other people, even those who are different from you or don't agree with you.
Learning to love our neighbor as ourselves comes only from learning to love God with all our heart. Caring influence that truly loves comes only from the message of the gospel of grace. Have you felt the reality of that love?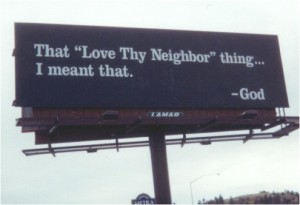 Nous poursuivons notre série de messages à propos de ce que Dieu nous appelle à faire et à être ici à Trinity International Church. Nous atteignons le dernier C: caring influence (une influence bienveillante).
Trinity est appelée à  servir les besoins de cette ville et de ces habitants dans l'amour. Qu'est-ce que cela signifie d'être transformé par le message de la Bonne Nouvelle de telle sorte que nous regardons l'autre d'un Å"il nouveau ?  L'Évangile entre dans nos vies lorsque nous venons à  Jésus seul pour notre salut, mais lorsque l'Évangile entre dans nos vies il apporte des changements radicaux dans la manière dont vous voyez les autres.
L'Évangile de la grâce vous fera vous soucier d'avantage du bien-être de ceux qui sont très différents de vous et avec lesquels vous ne partagez rien en commun. Aussi longtemps que vous penserez devoir mériter votre relation avec Dieu, vous devrez vous sentir supérieur aux autres qui ne feraient, ou ne verraient pas les choses de la même façon que vous. Mais lorsque vous voyez Christ descendre sur la Terre et mourir pour vous avant même que vous ne fassiez quoi que ce soit pour le mériter, lorsque vous lisez qu'alors que vous étiez encore pêcheurs, Christ est mort pour vous sauver, cela vous transforme et change la manière dont vous traiter les autres, même ceux qui sont différents de vous ou qui vous désapprouvent.
Apprendre à  aimer notre prochain comme nous-même viens uniquement de l'apprentissage à  aimer Dieu de tout notre cÅ"ur. Une influence bienveillante (Caring influence) d'un amour sincère ne peut venir que du message de l'Évangile de la grâce. Avez-vous déjà  ressenti la réalité de cet amour ?