We are continuing a new series of messages entitled  "Answering Objections to the Christian Faith."  We are trying to deal with the most difficult questions that we as Christians have to face in a pluralistic society; the objections that others have to our faith.
   As we mentioned last week, since we are dealing with difficult topics, we want to open this to a dialogue. So what we are going to do for all who would like to is that we will take a few minutes after the service each week from 5:15-5:45 in "salle calvin" to answer your questions. You can grab a cup of coffee while I greet people who are not going to stay and then we will meet together to talk further about the topic of the week.
   This Sunday we want to focus on why we as evangelical Christians put so much faith and trust in the bible as the Word of God.  Many modern people say, "There are good things in the bible but you can't believe it all."  But we as Christians believe if the Scripture is indeed the Word of God then it becomes an authoritative revelation from God to man that is the guide for our life and beliefs. We believe that the bible was inspired by God and it is not just a human book but comes to us as God's revelation. As Christians we don't pick and choose what we like about the bible, we submit ourselves to it as God's trust. Are we doing that blindly or are there good reasons to trust the bible?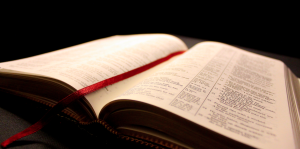 Nous poursuivons cette nouvelle série de messages intitulée:  "Répondre aux Objections faites à  l'encontre de la Foi Chrétienne."  Nous tentons de répondre aux questions les plus difficiles auxquelles les Chrétiens doivent faire face au sein d'une société pluraliste; les objections que d'autres ont à  propos de notre foi.
   Comme nous l'avons dit la semaine dernière, en nous ouvrant aux sujets compliqués, nous espérons un dialogue. Pour ce faire nous proposerons à  ceux qui le désirent de nous réunir pendant quelques minutes chaque semaine à  la fin de notre culte (entre 17h15 et 17h45) en la salle Calvin pour répondre aux questions. Vous pourrez vous servir une tasse de café le temps de saluer les personnes qui ne resteront pas,  puis nous nous réunirons pour parler plus longuement du sujet de la semaine.
   Ce Dimanche nous nous concentrerons sur la raison pour laquelle les Chrétiens Évangéliques placent tant leur foi dans la Bible en tant que la Parole de Dieu.  Beaucoup de nos contemporains disent: "Il y a de bonnes choses dans la Bible mais on ne peut pas tout croire."  Mais en tant que Chrétiens nous croyons que les Écritures sont bel et bien la Parole de Dieu et donc qu'elles relèvent par conséquent d'une révélation autoritaire de Dieu pour les Hommes qui guide notre vie et notre croyance. Nous croyons que la Bible fut inspirée par Dieu et qu'il ne s'agit pas seulement d'un livre humain mais qu'il nous est parvenu par une révélation de Dieu. En tant que Chrétiens,  nous ne choisissons pas les parties que nous préférons dans la Bible, mais nous nous soumettons à  la Vérité de Dieu. Faisons-nous cela aveuglément ou y-a t'il de bonnes raisons de faire confiance à  la Bible ?