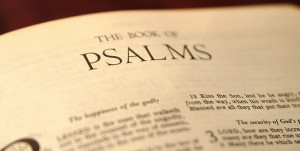 A Song of Warning
 
Psalm 2
We began last week looking at some of the songs of Israel saying that these songs although over 3000 years old are strangely modern and relevant as we see a worshipping community singing and praying to God.
These are a people like all of us who want to be happy, but we discovered last week that happiness comes not through focusing exclusively on being happy, but by being rooted in God. Â This ancient people learned that worship meant dealing with God and learning to pray their fears, their doubts, their stresses, their sins and their desire for a happy or blessed life.
We said last week that Psalm 1 is the introductory Psalm to the entire collection and many commentators argue that Psalm 2 should also be included as a part of the introduction to all the singing and worship of God's people. If Psalm 1 begins with the word "blessed,"  Psalm 2 ends with the same word. Psalm 2 is often called a royal Psalm, referring to the coronation of a Jewish King and the rebellion of some vassal nations that hoped to gain their freedom.
It is called a Messianic Psalm which means that it is quoted in the NT as referring to the Messiah, Jesus. Let's see together what this Psalm tells us about JEsus and his rightful place as King of the universe.
Un chant d'avertissement
La semaine dernière nous avons commencé l'étude des chants d'Israël en disant que ces chants, bien qu'âgés de plus de 3000 ans, sont étrangement  moderne et appropriés alors que nous observons une communauté louer, chanter et prier Dieu.
Ils sont un peuple comme les autres désirant être heureux, mais nous avons découvert que le bonheur ne vient pas en se concentrant sur le fait d'être heureux, mais en voulant s'enraciner en Dieu. Ce peuple ancien découvrit que louer signifiait avoir affaire avec Dieu et d'apprendre à  prier pour leurs craintes, leurs doutes, leurs contrariétés, leurs péchés et leur désir d'une vie heureuse et bénie.
Nous avons dit la semaine dernière que le Psaume 1er est l'introduction de la collection complète et beaucoup soutiennent que le Psaume 2ème devrait être reconnu comme une part de cette introduction aux chants et louanges du peuple de Dieu. Si le Psaume 1er débute avec le mot "béni,"  le Psaume 2 termine avec ce même mot. Le Psaume 2 est souvent appelé le Psaume royal, en référence au couronnement d'un roi Juif et de la rébellion de quelques nations cherchant à  gagner leur liberté.
Il est appelé Psaume Messianique, ce qui signifie qu'il est cité dans le NT en référence au messie, Jésus. Voyons ensemble ce que ce Psaume nous apprend à  propos de Jésus et de son rôle en tant que roi de l'univers.