We are looking together at people who encountered Jesus and how their lives were transformed by Him.  This series is designed to build our faith for us to believe that Jesus is still in the business of individual encounter even today.  That is why he said in John 6, "whoever comes to me, I will never drive away."
   This coming Sunday we are looking at a story that many learn about as children in Sunday School. Zacchaeus was a short man who climbed a tree to get a better vantage point above the crowds who wanted to see Jesus. It was not unlike the way he had lived his life, doing whatever he could to feel as important as those who stood taller than him. He had even gained riches by becoming a hated, cheating tax collector for the occupying Roman government. But when he meets Jesus, he learns he does not have to build himself up to be acceptable to God. Jesus asks him to come down from his high place literally and figuratively to commune with him. And this encounter will change Zacchaeus and produce joyful repentance.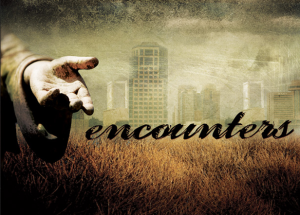 Nous étudions ensemble ceux que Jésus a rencontré et comment leurs vies ont été transformées.  Cette série a été conçue pour édifier notre foi afin que nous croyons que Jésus rencontre toujours des gens individuellement aujourd'hui. Voici pourquoi il nous dit dans Jean 6, "Celui qui vient à  moi, je ne le rejetterai jamais."
   Ce Dimanche nous voulons lire l'histoire que beaucoup d'enfants ont lu à  l'école du Dimanche. Zachée était un homme de petite taille qui grimpa dans un arbre afin d'apercevoir Jésus par dessus la foule. Ce n'était pas différent de comment il vécu sa vie, faisant tout son possible pour se sentir aussi important que tous ceux qui étaient plus grand que lui. Il s'était même enrichi en devenant un collecteur d'impôt haït et voleur pour le compte de l'empire Romain. Mais lorsqu'il rencontra Jésus, il réalisa qu'il ne devait pas se rendre acceptable aux yeux de Dieu. Jésus lui demanda de descendre de son perchoir littéralement et figurativement pour communiquer avec lui. Et cette rencontre changera Zachée à  jamais et produira une repentance joyeuse.