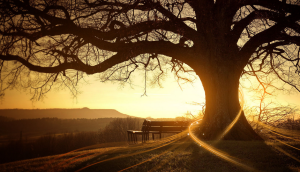 A Song for Those who want to be happy.
Psalm 1
The bible is an ancient document that says a lot about the search for meaning in life.  I know that it is an ancient document but might the ancients have learned some things that can help us today?  I believe it can because the bible says a lot about God and our relationship to Him.  If he created us then perhaps, He knows a thing or two about the meaning and purpose of life.
I want us to take some time this fall and look together at one section of the Bible.  I want us to look at some of its poetry.  Ancient people would often use poetry to search out meaning and purpose for their lives. We are going to look at just one part of the poetry of the ancient Israel. We want to look at their worship songs and see what we can discover from their search for meaning in life.
We want to look at the Psalms.  As we look at this Psalm I want you to notice that the question of happiness – contentedness – a blessed life is not something new to the 21st century.  The worship of Israel starts with a song for those seeking happiness and it suggest to us first of all that happiness is possible.
Aren't we searching for happiness just as much as the ancients were?  What can we learn from their search that might help us in our own?
Un chant pour ceux qui désirent être heureux.
Le Psaume 1er
La bible est un document ancien qui en dit beaucoup sur la recherche du sens de la vie. Je sais bien qu'il s'agit d'un document ancien mais les anciens pourraient avoir appris quelques choses qui nous aideraient. Je le crois car la bible en dit beaucoup à  propos de Dieu et de notre relation avec Lui.  S'il nous a créé alors peut-être en sait-il un peu à  propos du sens et du but de la vie.
Je souhaiterais que nous prenions un peu de temps cet automne pour regarder ensemble une section de la Bible. J'aimerais que nous lisions un peu de poésie. Les anciens utilisaient souvent la poésie dans leur recherche du sens et du but de leurs vies. Nous étudierons une partie de la poésie des anciens d'Israël. Nous regarderons leurs chants de louange et voir si nous découvrirons leur recherche du sens de la vie.
Nous regarderons les Psaumes. Alors que nous regarderons le Psaume 1er,  j'aimerais attirer votre attention sur les notions de bonheur – de satisfaction – de vie bénie qui ne sont pas des notions propres au 21ème siècle. La louange d'Israël commence avec un chant pour ceux qui recherche le bonheur et qui nous suggère avant tout que le bonheur est possible.
Ne sommes-nous pas à la recherche du bonheur tout comme le furent les anciens ? Que pouvons-nous apprendre de leurs recherches qui pourraient nous aider ?